Introduction to BI
Audience: Self Service Administrators
Objective: Highlight the features of the BI Analysis Tool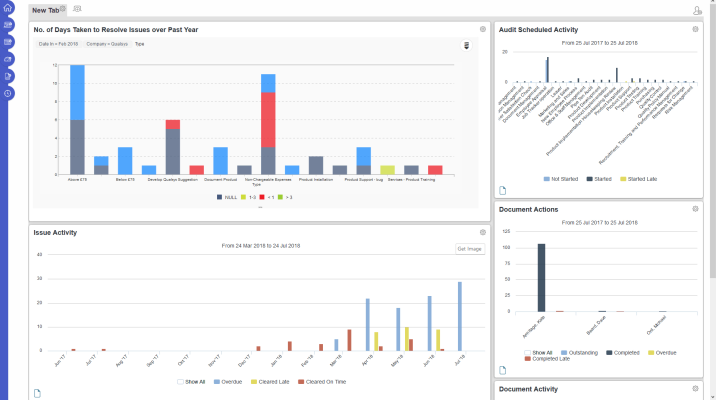 BI Dashboard in EQMS allows you to:
• Create charts, tables, and other visualisations of your data from across EQMS Modules

• Use formulas to help specify data

• Save these "visuals" in your own gallery

• Display them into customisable dashboards

• Place them in reports that can be shared with others

• Schedule reports for automatic generation and distribution and more
BI (Business Intelligence) is a moduleThe primary division of the EQMS application: EQMS Navigator, Document Manager, Issue Manager, Audit Manager, System Manager etc. A User is permitted access to Modules and their functions by being given membership of the System Groups which are associated with them by the System Administrator. Accessible by dropdown. within EQMS. It is an extension of the standardA record of a norm, for use in association with Document, Audits and Findings. These are as supplied and maintained by the User. They could, for example, be sections of ISO or IEEE standards. dashboard widgets and reporting tools that are native to the EQMS system. The use of BI enables a large variety of detailed customisable widgets and reports to be created from data across all modules within the EQMS system. Access to liveThe Status of a Document which has been uploaded or recorded by EQMS and linked to the Navigator Tree. data is key to the BI tool as it allows widgets and reports that guide the decision-making process to be as up to date as possible.
Major Functional Area
The home page is a list of your previously created and in-draftThe Status of a record which has been raised within EQMS but has not yet completed the necessary file upload processes. visualisations and reports.
Visual Analysis is a method of building your dashboard panels with a real-time visual of the report as you build
Analysis allows you to build your dashboard panels in phases as you define data sets and formulas before collating the data into a visual panel
Display your created visualisations across tabs for ease of access. This is the general area where your end-users will be able to access the visualisations that they are permitted to view.
Format bespoke reports using your created charts, tables and other data
Schedule the release of your Authored reports