Issue Manager Configuration Process
Audience: Issue Administrators
Certain items need to be created before Issues can be generated and processed. The flow diagram below shows these items in a logical sequence of creation.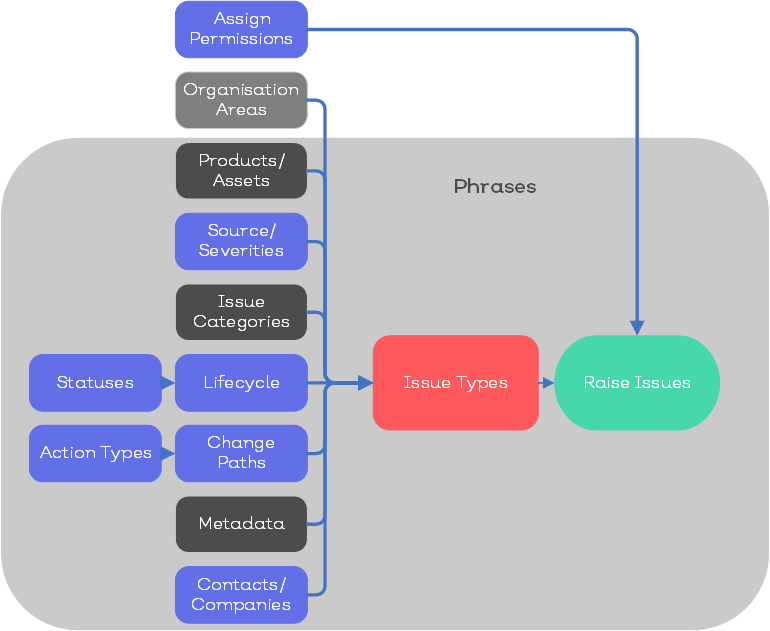 Note:
- Permissions are applied in System Manager
- Organisational Areas are created in System Manager and/or Audit Manager
- Products, Issue Categories and Metadata are optional
Process Key
| | |
| --- | --- |
|   | Start/End Process |
|   | Standard Data |
|   | Additional Data |
|   | Optional Data, Outside Module |
|   | Optional Data, Inside Module |
|   | Collated Data e.g. Types |
Define Users (System Manager | Security)
Create User details, including Group memberships. Using the same convention for login names already applied to your network login will save confusion. Default passwords need to be set and must be changed by individual users as soon as they access the system. It is advisable to use different default passwords for different classes of user (e.g. Users with document management rights should have different default passwords from view-only users).
For more information, see here
Permissions required
Define Workflows (Issue Manager | Workflows)
EQMS Issues Manager allows you to create and use workflows that ease the Issue handling process. They ensure the relevant personnel is notified when an action is required from them and allows for easy and useful reporting on current progress.
For additional information on defining Issue Workflows , see here
Define Metadata (Issue Manager | Issue Admin | Metadata Types)
Metadata Type is the name given to a user defined Data field which can be added to the record of an Issue. These additional fields can be designated as mandatory or not. This is achieved by associating the Metadata Type(s) to an Issue Type record. These additional fields are then drawn into new or existing Issue records from the selected mandatory Issue Type record.
For additional information on creating and maintaining custom metadata fields in Issue Manager, see here
Define Contacts and Companies (Issue Manager | Contacts/Companies)
Issues within EQMS Issue Manager are associated with specific Companies and Customer Contacts. This allows you to easily locate contact information should it be required while handling an Issue. You can also use it to help filter your Issues List to only include issues that relate to a specific customer, contact or both
For more information regarding Issue Manager Contacts and Companies, see here
Note:
When raising a New Issue, Companies and Contacts can be created via the icon to the right of the data field. However, this functionality is not available with the Client Contact and Requestor fields if enabled on the Issue Type.
Define Issue Types (Issue Manager | Issue Types)
EQMS Issues Manager organises Issues by Types for organisation and reporting purposes. These Issue Types act as templates for how to handle different varieties of Issues that you may handle within the system. They also allow for pre-population of fields when raising a new Issue, associating any relevant associated information that may be required.
For more information about creating and maintaining Issue Types, see here
Manage Issues (Issue Manager | Issues and New Issues)
Now that the settings have been configured and the assets have been created you can now use the system to aid the management of Issues. The flexibility of the system means that you can always create new and/or amend assets, settings and information to meet your current Issue Management needs.
For more information about managing issue records in Issue Manager, see here