Access to iEQMS
For iOS
The iEQMS application first needs to be downloaded via the App Store
When the application has downloaded you will see a new icon on your mobile similar to the one shown below: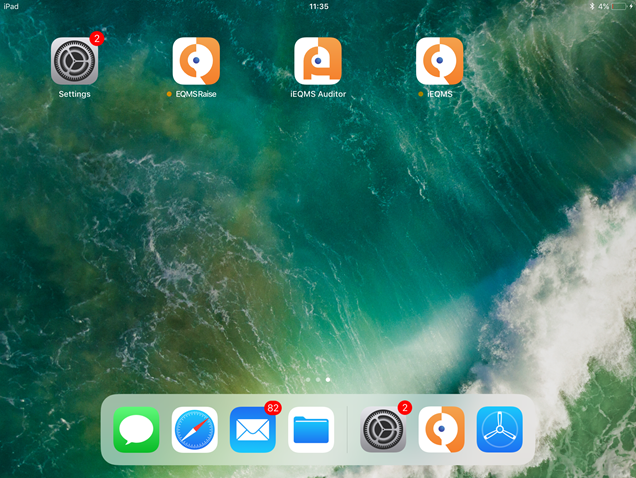 Select the icon to open the application
On initial use of the application you will need to first link the app to your EQMS system.
Select the Settings tab.

If the Settings tab is not immediately viewable, tap the top left corner to reveal the side bar. If you are viewing the application in landscape, the sidebar should be immediately visible.

Select Site Settings
Select Change URL. A pop-up panel should appear along with the on-screen keyboard.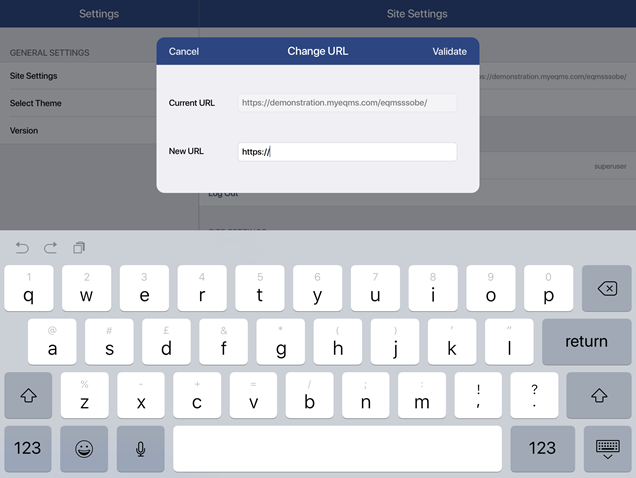 Type the URL of the EQMS system you would like the application to be linked to.
Note:
The application can be link to either your Live or UAT site. It can be helpful to first connect to the UAT site when initially testing the application to prevent any test records being saved to the Live system.
Select Validate to confirm the URL
If successful you will see an on screen notification as shown below. Confirm this notification to proceed to the next step
Next, you should be greeted with a pop-up panel to Log in to the system. Simply type in your standard EQMS username and password and then select Log In.
Note:
For multi-site systems you will also be required to select the specific site you would like to link to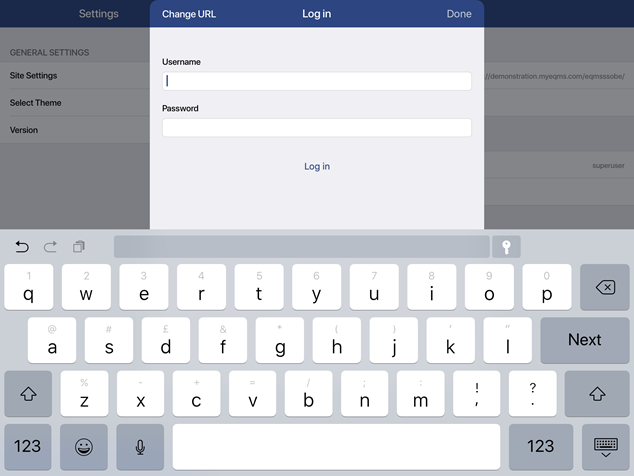 iOS may now request for you to confirm your Touch ID
You should now be successfully linked to your EQMS system and can access To-Do list items, Documents and Issues via the tabs in the navigation pane.
Customising iEQMS
iEQMS offers the ability for you to select a different 'theme' for the application. To update your selected theme:
Select Settings
Select Select Theme
Choose your preferred theme from the list of options
Logging Out of iEQMS
For security reasons, or if the device is being shared with multiple users, you may need to log out of the application. To do so:
Select Settings
Select Site Settings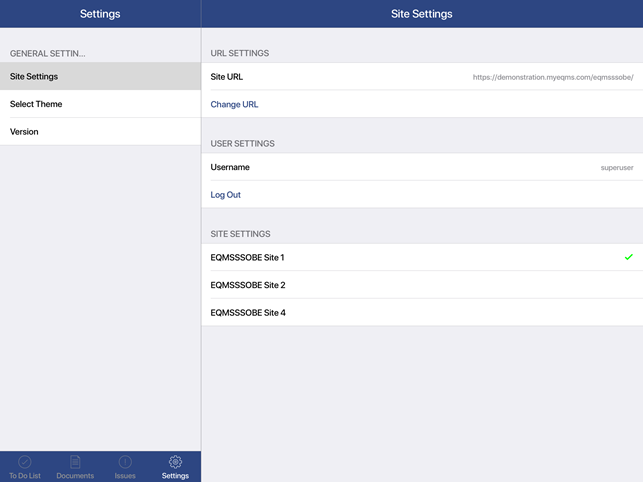 Select the Log Out option
Confirm