iEQMS Document Management
The iEQMS application allows you to access documents via the navigator and via the search feature, with the same access as if you were in the standard browser version.
Accessing Documents
Via Navigator
Select the Documents icon from the left hand navigation panel. You should be greeted with the same Navigation structure as you would when using the browser based EQMS.
You can use the supplied filters to view Navigator, Favourites, Search or to view only files stored locally on your device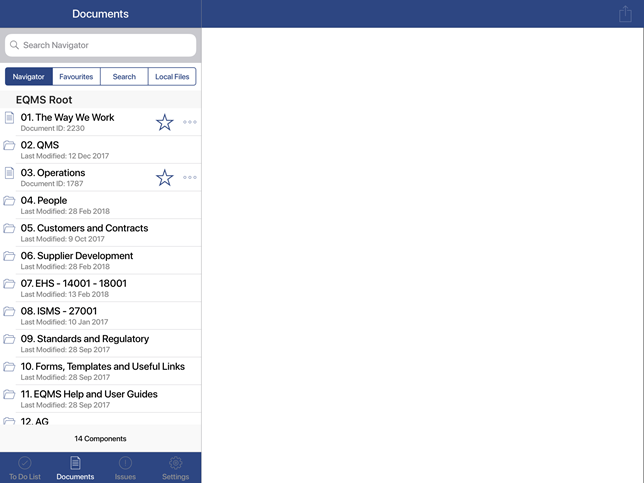 Selecting a component from the structure will allow you to drill down into the folders and view the available documents
Selecting a document will cause it to appear in the preview window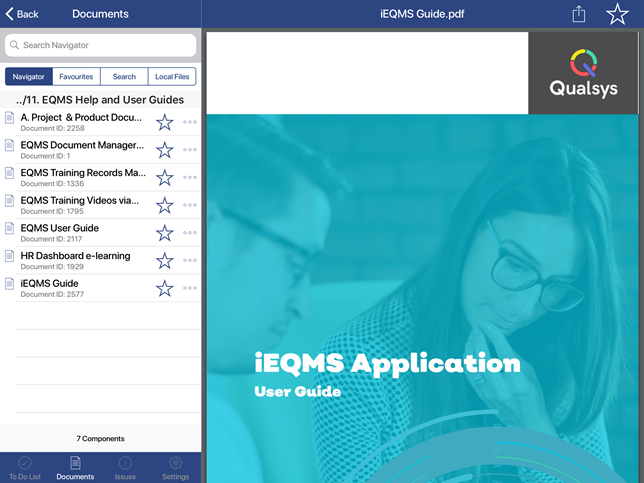 Note:
You can favourite a document to retrieve it easier in the future by tapping the star icon. Your favourited documents will appear under the Favourites tab in the Navigation panel. Any documents you may have favourited from the desktop version of EQMS will also be displayed.
Via Search
Select Search from the options at the top of the Navigation panel. This should reveal a screen similar to below:

Select New Search

Tap Search Phrase to reveal the on-screen keyboard. You can search via ID, Title or Content. Select search to submit your search query. Any matching results will be displayed, similar to below:

Selecting a document from the list will open the pdf preview